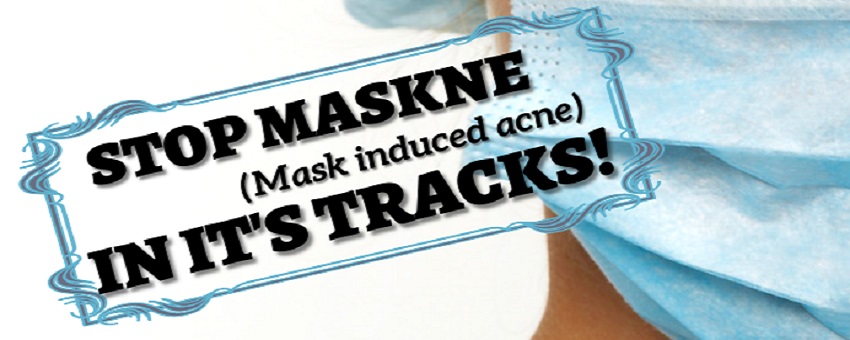 In a time where we all have to wear masks as part of our new normal, we wanted to share with you some top tips to keep Maskne (mask induced acne) at bay.

What causes Maskne?
Maskne results from a combination of the mask rubbing against the skin causing it to become weak and allow bacteria in, and the heat from your breath creating a sweaty environment resulting in excess oil production.

DISPOSABLE VS REUSABLE - Masks now come in a variety of designs and colours and it might be difficult deciding which is best for your skin. Depending on how many hours a day you have to wear it and the PPE requirements of your work place, there are a few easy solutions to follow to help reduce acne breakouts. With a reusable mask make sure you are regularly washing it after each use and hang it to dry. Aim to have a set of masks ready for when some are dirty. Try not to tumble dry as this can damage the fabric and cause the fabric to fluff up, loosening the pile which you could then be breathing in. With a disposable mask, the clue is in the name. Throw this away, in a bin, after use, and always sanitize before and after touching a mask.
MAKEUP - If you are going somewhere where you won't be taking off your mask, then avoid wearing makeup on the lower half of your face and allow your skin to breath easier. If you will be removing your mask, opt for a tinted moisturizer instead of heavy makeup.

HYDRATION - Stay hydrated, especially on days you have to wear a mask for long periods of time. Hydrating your body can help your skin flush out toxins more efficiently.

PH - Use a toner daily to balance your skins pH levels. Our skin likes to be in the range of pH 4.7-5.75. This is more acidic than water, so just using water to clean you face will not provide as much protection from bacterial growth than if you use a toner. When skin is not the correct pH then it encourages more bacteria production resulting in more breakouts.